:: LATEST NEWS ::
::&nbsplast update: 2005-12-15 11:21:44.0 ::
:: CURRENT IMAGE ::
::&nbsplast update: 2005-09-03 ::
:: LATEST EMAIL ::
::&nbsplast update: 2005-12-15 13:38:07.0 ::
2005-12-15 11:21:44.0:
before laos border
2005-10-29 15:32:15.0:
lhasa!
2005-10-05 09:02:36.0:
franz karl is in ali!
2005-09-03 15:39:38.0:
NEW PHOTOS!
[ DETAILS AND ARCHIVE...]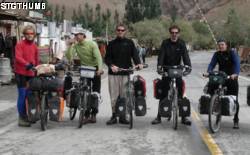 tibetan cyclists (franz at left). (copyright www.lutzi-on-tour.de)
(click to enlarge)

[TO THE PHOTOS...]
the dream of crossing TIBET


FROM: zhongdian (CHINA)
Dear Friends, Om mani padme hum,

since 220 days i am on the road always towards the east. this report will be from my section from Kasghar in the Xinjiang Uygur provinz in the far west of China trough all of Tibet. crossing into China from the karakorum Hwy in Pakistan is not possible by bike before Taxkorgan 130km after the Pak-Chin border. because there is heavy roadmaintaince the strech towards Kashi was full of washboard road and corrugations. there i pased the very impressfull Karakullake at the Muztagatamassiv 7546m. so on the 7th of sept. the undertaking of crossing Tibet ...